Books/Graphic Novels


In a Metal Web II | In a Metal Web II Gallery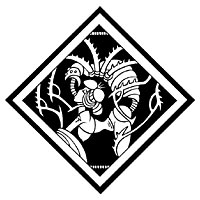 Book Four of the Spider Garden series

Sasaya's surreal waking life grows even more outrageous as the erotic nightmares of the previous evening begin to bleed over into reality. Dark visions of sexual enslavement by the Serpentine Sisters intrude on her mind, driving her to distraction.

During an afternoon spent walking their human pets, Shaalis reveals to Sasaya the story of Hir obsessive love affair with Squamata Serpentine and the mysterious origin of Squamata's twin Lichurna.

Sasaya takes these revelations in stride as she assists the Sacred Androgyne in a bizarre cybernetic experiment powered by the sexual energy of the Garden's concubines - and all this as a prelude to the revelation of a traitor in the Garden's midst!

As in the previous volume, In a Metal Web II features a seven page portfolio of character designs reproduced from the original pencil sketches.

In a Metal Web II (2003/NBM) 64 B&W pages - color cover with foil-stamped letttering - trade paperback - 11.5" x 8" - $10.95

SORRY! THIS BOOK IS CURRENTLY SOLD OUT. PLEASE CHECK BACK FOR FUTURE AVAILABILITY.