Welcome to the Spider Garden!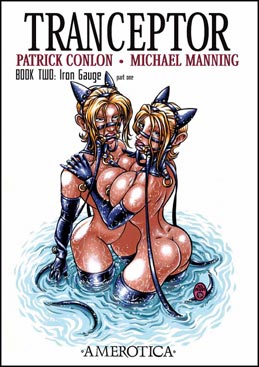 Welcome to the Spider Garden, home of Shaalis the Sacred Androgyne and the Metal Spider Clan - an organic self-sustaining environment in which erotic experimentation is raised to an artistic level and the interplay of dominance and submission brings a new kind of freedom...

I've named this site after the title of my first graphic novel and the series of books that followed. It's my intention that it serve as a starting point for people who are just discovering the world of the Garden on the web and in print. It also presents an opportunity for both new and long-time fans to view unpublished illustrations, photographs, and documentation of live events based on my characters and artwork.

The SPIDER GARDEN and TRANCEPTOR series books including TRANCEPTOR II: IRON GAUGE are now available directly from me. Check the BOOKS/GRAPHIC NOVELS section for availability. To place orders, please contact me at my Earthlink address at the bottom of this page. Debit/credit cards purchases can be made through my PayPal account and I am happy to sign individual copies at no extra charge.

STORE OWNERS/RETAILERS are welcome to inquire for wholesale prices & orders.

AVAILABLE NOW FROM LAST GASP PUBLISHING: The soft-cover edition of INAMORATA: THE EROTIC ART OF MICHAEL MANNING, a 152 page collection of erotic portraits and gallery pieces with introductory essays by Midori and Patrick Califia.

www.lastgasp.com

My LIVEJOURNAL has the latest information about my artwork, current projects, new publications, site updates and special offers. Your comments and questions are always welcome even if you're not a LiveJournal user.

metalweb.livejournal.com

FACEBOOK USERS: The Art Of Michael Manning Fan Group now on Facebook!

www.facebook.com/pages/The-Art-of-Michael-Manning

ART COLLECTORS: There is a wide range of original drawings, illustrations, paintings and comix pages available in the ARTWORK FOR SALE section. Check the PRIVATE COMMISSIONS section for guide lines on commissioning an original piece of artwork of your favorite Spider Garden or Tranceptor character. OBSESSIONART has 50 of my most popular illustrations from INAMORATA, LUMENAGERIE, CATHEXIS and HYDROPHIDIAN - all of which can be custom printed in a wide range of sizes and formats with prices to fit all budgets (see PRINTS FOR SALE for more info).

For tattoo commissions, please check the TATTOO DESIGN section for guidelines, prices and samples.

Some big changes are currently in the works, including a major overhaul of the Spider Garden site with new content and format. Until then, enjoy your visit to the Garden and return as often as you like.

Peace ..::MM::..