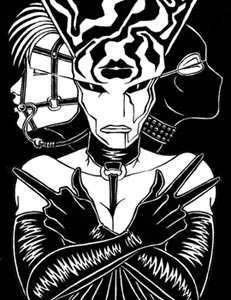 This gallery contains a sampling of posters, flyers, handbills, and postcards from 1992 to 2006 that feature my artwork. About half of these are my original creations and were made to promote books, bands, and art shows. The rest were designed by divers hands for various events. Sorry - it's been a long time and in many cases I can't remember who I handed off my artwork to.

Big thanks to collage artist Freddie Baer for producing the poster-sized version (too large to include here) of the Queen of Heaven 1995 Lupercalia Festival flyer as a limited edition white-on-black silk screen. I can't remember how many were printed. I think I signed ten.

Also, my thanks to sharp-eyed friends and fans for forwarding some of these flyers to me. If anyone else out there has spotted and saved any flyers or posters with my artwork that weren't included here, I'd love to hear from you.

No thanks at all to the following event/promoter/assholes for using my artwork without permission: Cunt Carnival, Cold Steel Bar, Exile, Fun House, Lou Bar, and Neverland. The band Monkey Boy ripped off Midori's business card artwork and Club Ekstacy stole a drawing from the Spider Garden for their posters but I've chosen not to include these because they're so incredibly lame they'd bring tears to your eyes. Also a big "ha-HA" to the San Francisco band (I can't even remember their name at this point) who used a panel from Tranceptor as a poster for their show at Bitter Root in 1999. These dimwits wheat-pasted dozens of these posters all over town - in the Mission, the Haight, Noe Valley, SOMA, China Town, even the Financial District - but since their band logo was down at the bottom in really tiny letters, everybody who saw it thought it was a promotional image for Tranceptor.

One final thing: I truly regret not taking more photos of my posters in their natural environment - ie: taped, stapled, and pasted to lamp posts, utility boxes, and walls. One of my proudest moments was seeing multiple copies of my first Helios Creed poster pinned up on telephone poles in the Lower Haight. It had rained the night before and all the other color posters had bled out onto my black and white artwork, creating a beautiful psychedelic mess.