Books/Graphic Novels


The Tranceptor Series with Patrick Conlon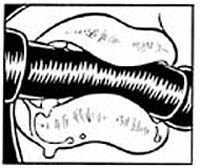 Book One: The Way Station | The Way Station Gallery

A collaboration with illustrator/tattooist Patrick Conlon, The Way Station sets the stage for a fast-paced sexy adventure in a post-cataclysmic world.

Hyu, the youngest member of a mining team in the industrial wastelands has seen his last hopes for a better life fade away. Then, the sudden arrival of a beautiful and enigmatic young woman in her horsegirl-drawn carriage changes everything. She is a tranceptor, skilled in the martial, mystic, and erotic arts. In the course of her mystery-shrouded mission she will use the the bodies of her pony slaves to initiate the naive Hyu and will match her own considerable charms against those of her fellow tranceptor, the luscious and treacherous Ravanna.

TRANCEPTOR: THE WAYSTATION (1998/NBM) 72 B&W pages - color cover with foil-stamped lettering - trade paperback - 11.5" x 8"

The TRANCEPTOR series books are now available directly from me. To place orders, please contact me at my Earthlink address below.