Books/Graphic Novels


Lumenagerie | Lumenagerie Gallery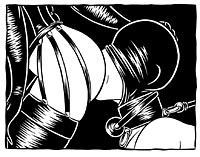 "The Lumenagerie is the House of the Creatures of Light and their Mistresses and Masters. It is the maze of black reflective planes against which their flesh shines brilliant and lustrous." In the bestiaries of ancient times scholars would catalog the habits and environments of exotic animals and mythological beings. Lumenagerie is a visual guide to a dark world populated by fantastic creatures, but with a modern B+D/SM twist.

Divided into seven sections - AVIATRIX (birds), CANUS (hounds), DOMINAS (goddesses), EQUINE (horses), SERVUS (male +female slaves), GYNANDROS (hermaphrodites), NOCTUA (supernatural beings) - LUMENAGERIE features dozens of single and double page images in which luscious slaves of both genders are outfitted with collars, leashes, stilleto heels, hooves, tails, saddles, claws, and even wings for explicit erotic encounters with inhuman masters and demanding mistresses. Beautiful dominatrixes, divine and diabolical, offer their bodies up for worship - rewarding or punishing their pets as they see fit.

Lumenagerie contains many pieces that were originally exhibited in gallery shows between 1992 and 1996 as well as private commisions and portraits. It also includes a five page interview by author/filmmaker David Aaron Clark (R.I.P.). Conducted in 1996, it gives some good insight into Manning's art, influences, and life in general up to that point.

Lumenagerie (1996/NBM) 72 B&W pages - color cover w/ foil-stamped lettering - trade pb - 8.5" x 11" - $11.95

SORRY! THIS BOOK IS CURRENTLY SOLD OUT. PLEASE CHECK BACK FOR FUTURE AVAILABILITY.