Books/Graphic Novels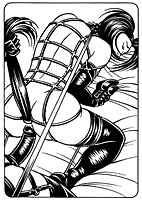 Inamorata: The Erotic Art of Michael Manning | Inamorata Gallery

Inamorata is...

... (It., fem. of inamorato, lover, orig. pp. of innamorare, to fall in love) a woman in relation to the man who is her lover; sweetheart or mistress.

... an alternate reality where identity, gender, and even species become more fluid concepts.

... a compendium of character studies and wordless narratives in which elemental goddesses, technological demons, human pets, and erotic avatars celebrate a transcendently deviant sexuality.

This lavish art collection contains a decade's worth of illustrator Michael Manning's perversely beautiful portraits. Dominatrixes, dancers, fetish models, contortionists, and other real-life muses are reinterpreted through the artist's elegant line work as powerful and profoundly sensual beings who give free reign to their erotic desires. Join the creator of The Spider Garden series on a trip through an alternate reality where sensuality is the norm and everything is permitted.

Inamorata includes introductory essays by Patrick Califia (Macho Sluts, Melting Point) and Midori (The Seductive Art of Japanese Bondage, Beauty Bound) and extensive liner notes by the artist.

INAMORATA (2010/LAST GASP) 152 Color/B&W pages on glossy stock w/ four double page gatefolds - soft cover with illustrated interior flaps & end papers- 12" x 9" - $24.95

The soft cover edition of INAMORATA (available Spring 2010) can be ordered from Last Gasp: www.lastgasp.com or directly from me (please contact me at my Earthlink address below for availability).