Books/Graphic Novels


Cathexis | Cathexis Gallery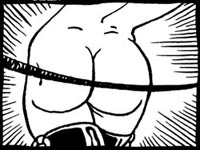 "Where reality is transcended through excess and the mind's eye focuses on the flesh..."

A collection of Manning's early short strips and illustrations, many of which were originally self-published in long out of print titles such as SPIRAL, FROZEN MOTION, Z/XERO, and UKIYO X between 1987 and 1992.

Highlights include: "Circe's House" which introduces the title character, an enchanting dominatrix who uses corset and strap-on dildo training to transform Katsu, a beautiful boy, into Kat, her feminine plaything. Kat also appears in a sequel "Vague Terrain" which features a sizzling bisexual menage-a-trois. Sex in the afterlife is explored in "Audio Frequency Book of the Dead" in which a woman submits to orgiastic trials with various gods and demons. Also included is the much-praised "Brahma" with it's taboo-shattering encounter between a bored young woman and the well-hung dog left in her care.

Cathexis (1997/NBM) 104 B&W pages - color cover w/ foil-stamped lettering - trade pb 8.5" x 11" - $13.95

SORRY! THIS BOOK IS CURRENTLY SOLD OUT. PLEASE CHECK BACK FOR FUTURE AVAILABILITY.